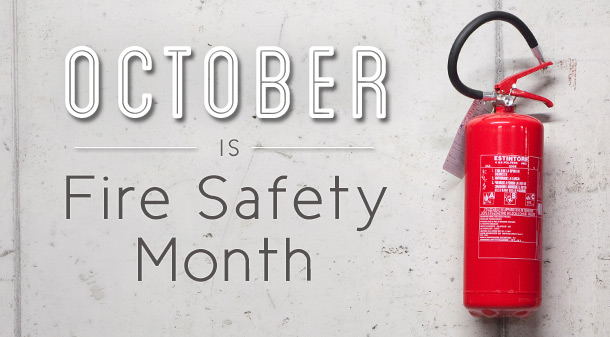 October is National Fire Safety Month. Usually when people hear fire prevention, they think of  forest and other outdoor fires. While fire prevention is important for those areas, it's also vital to remember that fires can happen anywhere — even in your home. Of all the fires that start in homes, garage fires typically spread the farthest and cause the most injuries and dollar loss compared to fires that start in any other area of the home. October is the perfect time to examine your garage and ensure you're prepared.
To start, below are some stats about garage fires:
The leading cause of garage fires is electrical malfunction. This can be from shorts in wires, damaged wires, and/or overloading electrical outlets.

The top three causes are: "electrical malfunction" (16 percent), "other unintentional, careless action" (15 percent), and "open flame" (11 percent).

About 6,600 residential building fires originating in attached garages are reported to the U.S. fire departments annually.

The fires reported caused roughly 30 deaths, 400 injuries, and $457 million in property damages.

January, December, and July are the months garage fires are most likely to happen.
Keep your home and garage safer with these helpful tricks:
Store flammable items like gasoline, oil, varnishes, and paints in a shed or structure away from your home.

Keep items that can easily burn on shelves away from appliances.

Plug only one charging appliance into each outlet.

Do not use an extension cord when charging an appliance.
If you're in the building process, rebuilding the garage, or updating your garage, the materials you use can change the game in fire prevention! If you're able to, install:
A 20-minute fire-rated door that is self closing and self latching from the garage into the house.

A ceiling made with

⅝

-inch Type X gypsum board (or the equivalent), if you have living space above the garage.

A wall with ½-inch gypsum board (or the equivalent), if the wall attaches the garage to your home.

An attic hatch cover, if you have attic access from the garage.

A heat alarm — not a smoke alarm — in your garage. The heat alarm will sound if the temperature rises too high.

Learn more

about what type of heat alarm is best for garage installation.
As the days become chillier, the chance for fires raises — increased use of heat, flame-prone items just sitting in the garage, and they're often full of extra items that don't fit in the home. Take the necessary steps to prevent fire and damage in your garage and home!
Overhead Door Company of Garden City has the garage fire prevention tips you'll be grateful for! Call us today 620-275-4602 or contact us and we'll help make sure your garage is safe!
CALL TODAY! 620-275-4602
http://overheaddoorgardencity.com/wp-content/uploads/2016/10/Fire-safety.jpg
323
323
ohd_edzk65z5
http://overheaddoorgardencity.com/wp-content/uploads/2018/01/ohd_garden_city_wc_logo_tm.png
ohd_edzk65z5
2016-10-04 14:05:16
2016-10-04 14:09:32
Fire Safety Month Garage Tips