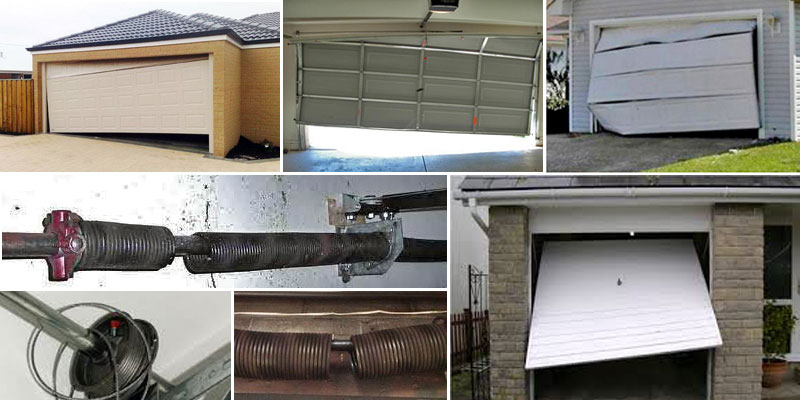 Hopefully your garage doesn't look like any of these, but if it does, we can fix it for you! Even if the broken part is not obvious, there could still be an issue.  A garage door opener and garage door are the biggest operating parts of your home, and they are constantly used each day, throughout every season. In order to keep them running smoothly, there are a few maintenance tips home owners should keep in mind. These are simple, brief tests that should be performed monthly in order to make sure your door lasts for many more decades. When in doubt, check the owner's manual for upkeep and safety tips!
Garage Door Opener
Reversal test – (If your door has a reversal feature). Place a block of wood in the center of the door on the ground where the garage door would touch. Press the opener's transmitter or wall button to close the door. When the door comes into contact with the block of wood, it should immediately go into reverse and open back up. If it does not, your door will need servicing.
Force setting test – (If your door has an automatic opener system). Push up against the bottom of the door as it mechanically closes. If it does not reverse and open easily, the force setting may be too strong and needs to be adjusted.
Additional safety devices – If your garage door opener has additional safety features, such as a photo eye or edge sensor, be sure to check that those are functioning properly.
Garage Door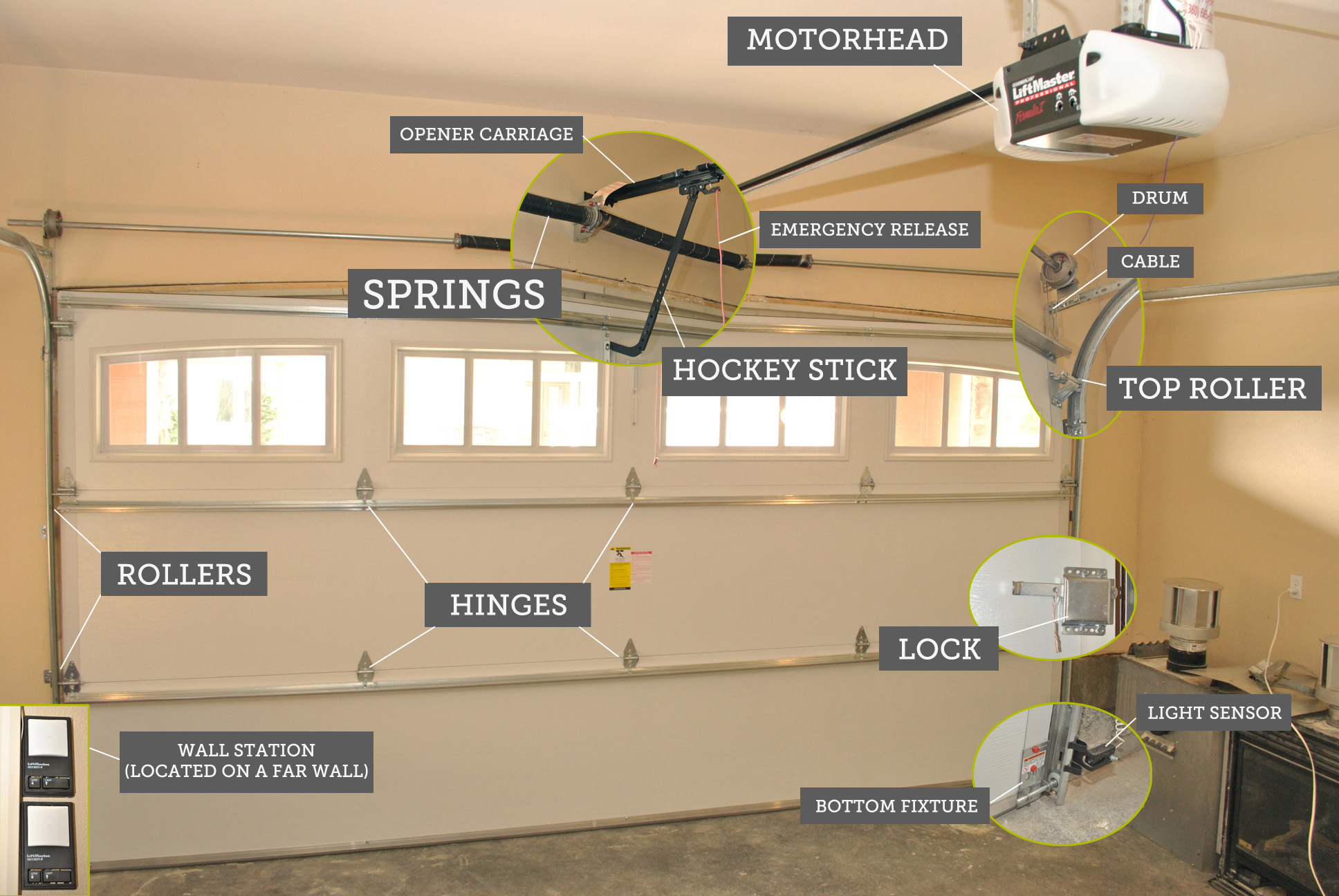 Visual inspection – Look at the many hardware pieces of the door. This includes the: cables, tracks, springs, weatherstripping, rollers, pulleys, mounting hardware, etc. Make sure there is not any noticeable damage or wear to these pieces. Is the mounting hardware tight? Are the cables fraying in any way? Does the door make any noise when it opens or closes? Be sure to look at each part. It's always better to fix the small issues than ignoring them and needing to fix a more serious issue.
**Many of these parts can be easily fixed by the homeowner, however, the springs, cables, brackets, and other hardware attached to the springs are very high tension. If these are handled badly, they can result in serious injury. Any fixing or replacing should be done by a qualified professional or mechanically experienced person! Contact us for help you may need!
Lubrication – This is one of the easiest ways to increase the life of you garage door. Regularly lubricate the moving parts of the door. Grease is best for the opener's chain or screw and a spray lubricant to coat the hinges, rollers, overhead springs, and tracks. This is not a monthly task, but looking at it each month, just in case, will only help you.
Door balance – Use the manual release on your door so you are in control rather than it being mechanically operated. Open and close the door a few times. Does it open without resistance? Does it open smoothly? Does the door stay opened? If you answered "no" to any of those questions, your door may be out of balance and need servicing.
Garage door itself – Check the door for signs of water damage, warp, chipped or peeling paint. The best garage doors are in good working condition!
Using this maintenance checklist, any homeowner can lengthen the life of a garage door and garage door opener. If you have any questions about this checklist or further maintenance, be sure to give us a call at (620)275-4602 or contact us and we'll help you with your garage door needs!
http://overheaddoorgardencity.com/wp-content/uploads/2016/01/broke-garage-door.jpg
400
800
ohd_edzk65z5
http://overheaddoorgardencity.com/wp-content/uploads/2018/01/ohd_garden_city_wc_logo_tm.png
ohd_edzk65z5
2016-01-28 21:33:11
2016-01-28 21:36:09
Garage Door Maintenance Tips for the New Year