Buying a new garage door can be a very daunting task that can also greatly change the look of your house. Lucky for you, we've put together this garage door buying guide to simplify the process. Click here to schedule a time for us to come help you! First you'll need to know the size of the door, check out here how to measure your garage door!
Let's start out with the basics: how much do garage doors cost and where are they sold?
Cost
-Garage door costs can vary, depending on many factors: the number garage doors needed, type of material used, style of the door, installation costs (if applicable), etc.
-The average price can range anywhere from $350 for the less insulated, lower end materials and self-installation to $3,500 and up for rare material, high-end door with installation. It all depends on your budget.
The average cost for a mid-range garage door with instillation is anywhere from $750 to $1,500. The return on investment will prove this to be a fairly easy-to-do investment.
Where to Buy
-Garage doors are sold at any home improvement store, but trying to fit the door into the back of your car or truck may be hard to do. -Willingness to take one the added cost of installation will save you loads of stress and time. And when choosing an installation company, it is best to go with one you trust, one that is locally based. Overhead Door can make this process stress-free and simple!
After you've decided how much is in your budget for a new door and where you will make the purchase, next comes the fun part: choosing a style of your doors and the material.
Style
The style of your garage door can be simple and low distraction or it can add character and ambience to tie it all together!! Here are four most common panel designs:
-Carriage House Panels – Detail oriented, can vary greatly in design
-Flush Panels – These are low attention grabbing doors, slightly textured panels that compliment the surrounding wall areas.
-Long Raised Panels – Add depth to the door continuously along the length
-Short Raised Panels – Also add depth to the door, in shorter bursts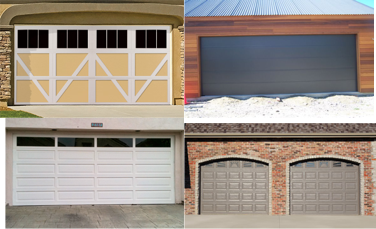 Material
The material of the door can change the look from modern to the classic barn look. Whatever the look you may be going for, here are the most common materials for garage doors:
-Fiberglass & aluminum – Both are very lightweight materials and allow for translucency. They offer a wide variety of looks depending on your style. However, they do not insulate well and can be easily broken, especially in the cold.
-Wood – Chosen for its natural look rather than durability, wood can beautify any garage. Fairly frequent maintenance is require, but these doors offer a wide variety of styles.
-Steel – The most common and economical garage door, has ability to mimic the look of wood minus the necessary maintenance. These doors do not easily rust and can fight most effects of weather, but often come in more limited selection.
A few more things to keep in mind:
-Garage door openers are a separate purchase from the actual garage door itself, however many companies also offer the opener
-If you live in an area with high-winds or extreme weather, make sure your garage door can withstand the elements
-The level of insulation can change based on the material, the higher the R-value the higher the insulation capabilities
Remember to contact us with any questions or concerns about installing your garage door opener. Feel free to call us during regular business hours at 620-275-4602 or contact us here any time.
Thank you for using Overhead Door of Garden City for you garage door needs!