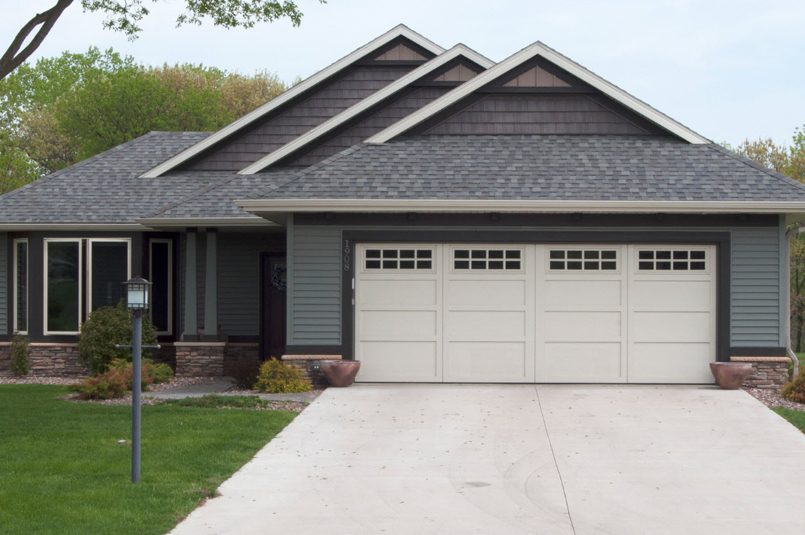 You've decided to upgrade your garage door, but now you must choose which material you'd  like your door made of. That depends on a lot of factors: your budget, the look of the door, amount of insulation, design, etc. The most commonly purchased are steel garage doors. There are a lot of benefits to having a steel garage door and they include:
The design options are endless, even mimicking the looks of other materials. Want the look of a wooden door but not the hassle of upkeep? Get a steel garage door. Want a very modern look without the extra costs? Get a steel garage door. Steel garage doors are customizable to compliment your home's exterior.
Many steel doors offer safety features not found with other materials. The money saved in manufacturing allows Overhead Door Company of Garden City to increase safety measures.
Steel garage doors are very durable, they won't warp, crack, delaminate, or fall apart due to weather effects, compared to other materials.
Steel garage doors require very little upkeep. Wood doors require constant maintenance and care, while steel doors are able to last many years with little repair.
Rust can be easily prevented if the door has a baked-on primer and polyester topcoat, a must-have when purchasing a steel door.
Steel doors are very budget friendly, they can be single skin, double skin, thin, thick, highly insulated, basic insulation, etc. Whatever your budget is, a steel door can conform.
Steel garage doors are the most common purchase for consumers because they offer safety, security, durability, design opportunities, and very little hassle. Could there be a better garage door?
Still not sure which design would look best for your home? Overhead Door Company of Garden City is here for your questions. Check out our design center and test out different doors to see which would boost your curb appeal! We are here for your garage door needs. If you have questions, contact us or call at 620-275-4602 and we'll help you with your garage door needs!
http://overheaddoorgardencity.com/wp-content/uploads/2016/08/home-with-steel-door.jpg
535
805
ohd_edzk65z5
http://overheaddoorgardencity.com/wp-content/uploads/2018/01/ohd_garden_city_wc_logo_tm.png
ohd_edzk65z5
2016-08-02 13:26:04
2016-08-02 13:26:04
Steel Garage Door - The Best Choice