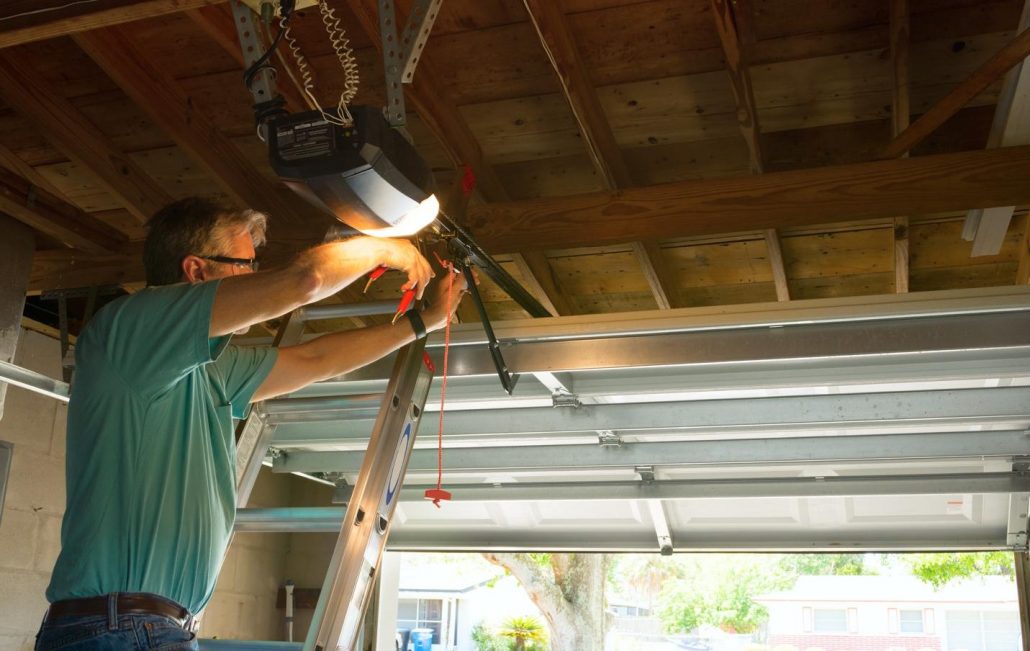 To elongate the life of a garage door and to make sure it is in safe working order, it is important to perform routine garage door maintenance. Our steps below will get you on the right track!
Step #1: Start with a Clean Garage
Give your garage exterior a good cleaning. A power washer or hose works great with mild soap and water to remove dust and dirt. Wash the garage floor to get rid of any fluid, dirt from the road, or stains that may be forming. Tidy up everything in your garage. After you have a clean and organized space, check for any problems — mold, bugs, concrete damage, etc.
Step #2: Do a Full Inspection
Look at the various hardware pieces of the door. This includes the: springs, rollers, pulleys, cables, track, mounting hardware, weather-stripping, etc. Make sure there is not any wear or damage to these pieces.
Is the mounting hardware screwed in tight?

Are the cables fraying in any way?

Does the door make lots of noise when it opens or closes?
Be sure to look over each part. It is always better to fix the small issue than ignoring it and letting it become a serious concern.
Step #3: Lubrication
This is one of the easiest ways to add years of use to your garage door. Regularly lubricate the moving parts of the door. Use low temp grease on the opener's chain or screw and a spray lubricant to coat the overhead springs, hinges, rollers, and tracks. This does not need to be done every month, but including it in the inspection list will not hurt.
Step #4: Check Door Balance
Use the manual release on your door so you are operating it rather than it being mechanically operated. Open and close the door a few times. Is it easy to open? Does it open smoothly and easily? Does the door stay opened? If you answered "no" to any of those questions, your door may be out of balance and need servicing.
Step #5: Perform a Reversal Test
First, make sure your door has a reversal feature. If it does, continue with this test. Place a flat 2 x 4 block of wood on the ground in the center of the door where the garage door would touch. Press the opener's transmitter or wall button to close the door. The door should immediately go into reverse once it hits the block of wood. If it does not, your door will need servicing.
Be sure to perform a maintenance test at least once per year!
Remember that many garage door parts can be easily fixed by the homeowner, however, the springs, cables, brackets, and other hardware attached to the springs are under high tension. If these are handled improperly, they can result in serious injury. Adjustments should be made by a qualified professional or mechanically experienced person. Call us for help in these areas.
(620) 275-4602
http://overheaddoorgardencity.com/wp-content/uploads/2017/06/GC-6-12.jpg
904
1431
ohd_edzk65z5
http://overheaddoorgardencity.com/wp-content/uploads/2018/01/ohd_garden_city_wc_logo_tm.png
ohd_edzk65z5
2017-06-12 00:57:17
2017-06-12 17:28:47
Garage Door Preventative Maintenance Tips