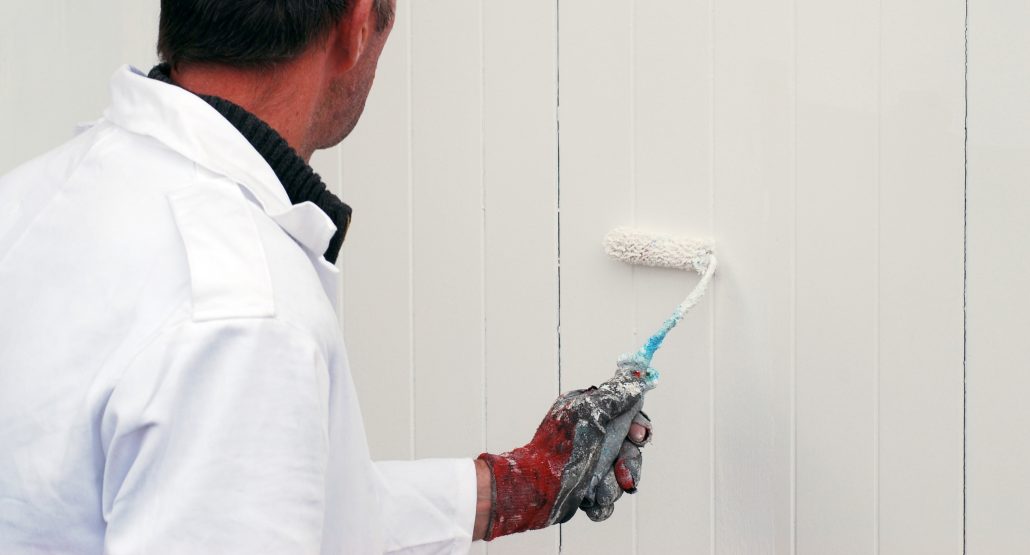 If you are ready to paint your garage, Overhead Door Company of Garden City has some tips that can help! A nice paint job might be all you need to make your garage door look great again. Many garage doors just need a new coat of paint or a different color to have it looking as good as new. Read the following steps below for an easy way to make sure your paint job turns out great.
Check out our post from April 4 called: Tips for Painting Your Garage Door before you get started on the painting of the garage itself.
How to paint your garage door:
Step 1: Plan ahead. Look at the week ahead and make sure you have a nice, mild day for painting. You do not want it to be too hot or too cold. You also want to make sure the weekly forecast is clean of rain, snow, or anything dramatic.
Step 2: Start with a clean surface: Take a sponge or dry cloth. The garage should be free of dust and debris. Do not skip this step because you do not want all of the dirt mixed in with the paint or for the paint to adhere improperly. Use a sanding sponge to even out any spots, where necessary. Keep the sponge close by and continue to clean the surface as you move from one section to the next.
Step 3: Tape off the parts you want in a different color. Using more than one color can add dimension to your door. Choosing the right color or combination of colors is crucial. You might want to think about what the color of your garage says about your home.
Step 4: Start Painting. The fun part begins! Read the bullets below for a few tips to keep in mind while painting your garage door. Remember a drop cloth for spills!
Start with primer – If the paint you are using does not already have it mixed in, use a primer first. Make sure it is all the way dry before moving on. Make sure your paint is meant for the outdoors!
Paint in layers. By the time you get the first coat done, you might be able to paint the second or third.
You can also move the garage door down as you paint each section so you do not have to bend over or sit down on the ground while you are painting. Start at the bottom and move up.
Use a roller for the bigger surfaces and a small brush for edges or any details.
Be careful to let the paint dry if you are painting between panels that touch each other when the door is closed. You do not want them to dry together and peel apart.
Let the paint dry for 24 hours before using the garage.

While you are painting the garage door, take a break and make sure that all moving parts are functioning properly. It is important to do regular maintenance on your garage. Good luck and we hope your garage door looks great!
620-275-4602
http://overheaddoorgardencity.com/wp-content/uploads/2017/05/ODGC-051517-how-to-paint-the-garage-1.jpeg
1508
2800
ohd_edzk65z5
http://overheaddoorgardencity.com/wp-content/uploads/2018/01/ohd_garden_city_wc_logo_tm.png
ohd_edzk65z5
2017-05-15 16:06:59
2017-05-15 16:06:59
How to Paint a Garage Door