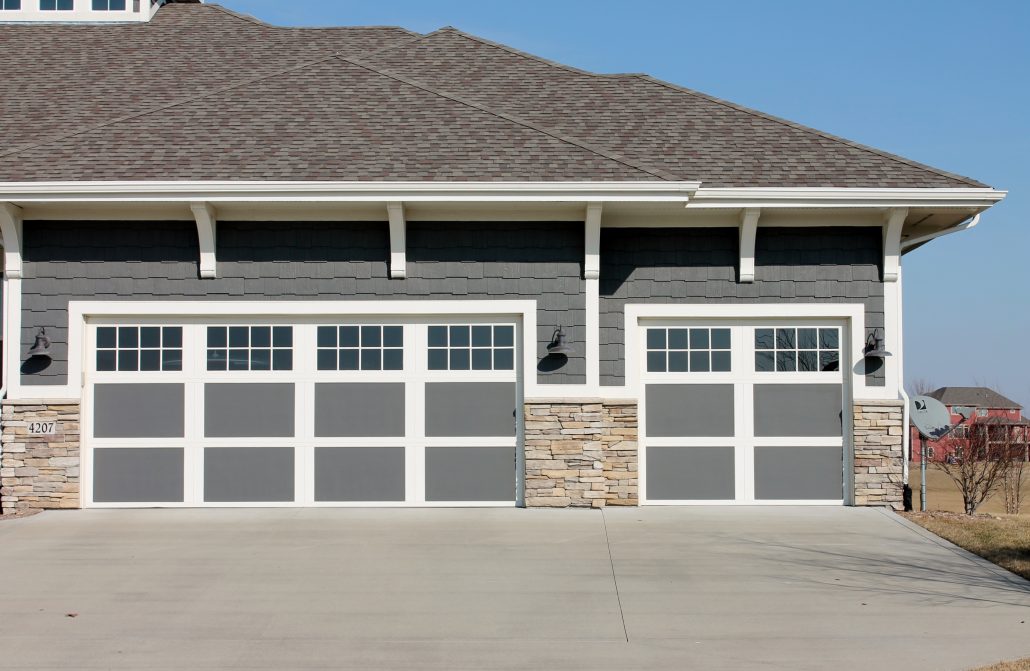 Whether you view your garage door as an accessory or a utility, it is important to know when it is time to let go and upgrade. Garage doors, like the homes they adorn, age in both style and functionality. Aside from modernizing, it is difficult to escape the inevitable wear and tear on garage door intricacies such as gears, batteries, hinges, screws and more. To help you identify when it is time to replace your garage door, we are sharing four key signs it is time for change.
Age
Age is the first sign that it is time to replace your garage door. Those with a vintage home may argue that a modern door would alter the overall style of their home, however, with a variety of customizable options, Overhead Door of Garden City can build and install a new system that blends seamlessly with the style of your home, no matter its age. Overhead Door offers a wide range of residential styles including the classic Carriage House, Modern Aluminum, and Traditional Wood.
An outdated door has seen years of use, collecting scratches and dents along the way. Extreme weather, paired with long-term daily use, can turn your garage door into an eye sore and a safety hazard.  Upgrading your faded and outdated garage door will not only add style and value to your home, but also add functionality and safety features.
Repeat Breakdowns
Repeated breakdowns can be a sign of age or poor quality. Overhead Door offers the most up-to-date styles and functionality options, in addition to testing for things like durability, extreme temperatures, laborious use, and more – this is why our garage doors are among the most dependable in the industry.
If you have regular trouble using your garage door after storms, or it consistently jams when opening, it's time to upgrade. In addition to overall functionality, loose, cracked or rotten panels are definite signs that your garage door is beyond repair and in need of replacing.
You also want to pay attention to any hinges or screws that appear loose, as well as any panel gaps or imbalances. For safety purposes, contact an Overhead Door representative and avoid using your garage door if you notice any of these issues.
Noise
No one wants to wake the dog, baby, or neighbors because of a noisy garage door. Like nails to a chalkboard, creaky garage doors are not an ideal way to start or end the day. If you notice persistent noise from your system, it is a surefire sign you may need a new garage door.
Not only is noise an indicator of deterioration, it could also be a sign that your garage door opener is outdated and a possible safety risk. Instead of spending more on repeat service calls and new parts, contact Overhead Door to begin customizing a stylishly silent replacement.
Safety
Your garage is not only a storage space and access point to your home, it is also an added layer of security. Overhead Door garage doors, such as the Thermacore® Insulated collection, have been proven to save hundreds of dollars on heating and air conditioning costs each year. Furthermore, by using only premium materials, your garage door will protect your home and belongings from harsh weather and theft.
In addition to added insulation and durability, modern garage doors have built-in safety features, like coded access, safety reverse and panel pinch protection.
If your current garage door is showing signs of age, damage, or compromised security, Overhead Door of Garden City is ready to help you replace it. Stop worrying about the noise and safety hazards and start enjoying the comforts of a garage door that not only looks great, but will stand the test of time and protect your family.
Call Overhead Door of Garden City to upgrade your garage door and
increase the overall value of your home.
(620) 275-4602
http://overheaddoorgardencity.com/wp-content/uploads/2017/06/062617-OHDGC-replacing-your-garage-door.jpg
2738
4200
ohd_edzk65z5
http://overheaddoorgardencity.com/wp-content/uploads/2018/01/ohd_garden_city_wc_logo_tm.png
ohd_edzk65z5
2017-06-26 18:12:14
2017-06-26 18:12:46
Could Your Garage Door be Past the Point of Repair?