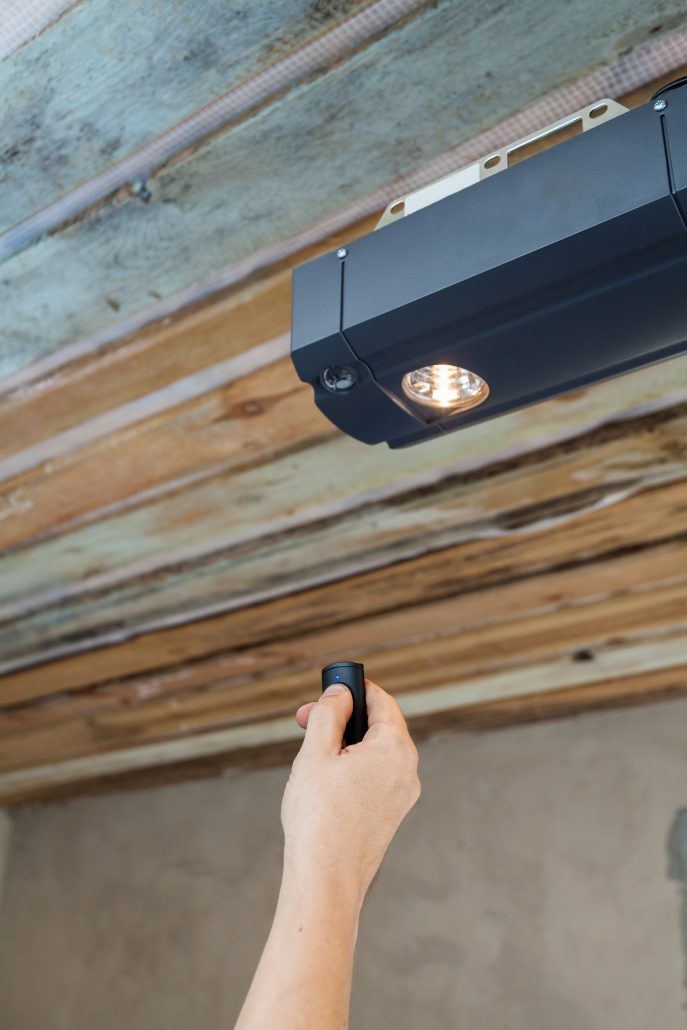 Let's start with the most obvious of garage door opener accessories; the remote control opener. Today, remote control openers come in several shapes and sizes starting with the standard two-button opener, which most keep securely hidden in their car for arrival and departure. If you do not want to keep your remote accessible in the car, a mini remote, possibly even a keychain remote could be a useful fit.
Exterior Garage Door Opener
Another useful access tool, particularly those with kids, could be the exterior keypad. With a wireless exterior keypad, you no longer have to trust your kids to keep the house keys secure. In the event that you lose your house key, the keypad will come in handy. Aside from acting as a backup, the exterior garage door opener is helpful for those who want to keep their home locked while spending time outside, perhaps while going on a run or walking the dog. The Overhead Door Digital Wireless Keypad provides secure door entry for up to three garage door openers.
Laser Parking System
Another modern technology that should be integrated into your garage door system is the laser parking system, also referred to as the reverse mechanism. With this system, a closing door will be reversed automatically when objects pass through its infrared beam. Some models not only make sure you are far enough into your garage, they also help you optimize your garage space by helping you park perfectly. Instead of hanging a ball from the ceiling, beams from the laser parking system will tell you exactly where to stop.
Garage Door Monitor
Are you the type of person to double or triple check if you have locked the door, shut the window or closed the garage door? A garage door monitor allows you to monitor and close up to four garage doors from any room in your house. The sensor automatically sends a signal to the monitor, alarming you if the door has been left open. ​​​​​​​​​With Overhead Door's Anywhere™ app, you can check if your garage door is open, closed or if there is any change to the door position. You can instantly open the door for a friend, cleaning service or delivery person from your smart device without having to provide a key or password to your exterior opener. The OHD Anywhere™ app also gives you access to security information such as the dates and times of when the garage door was used.
Battery Backup System
Like the garage door monitor, the battery backup system offers peace of mind when it comes to the safety and security of your home. Whether it's during inclement weather, or during a power outage, the backup system will be there for you when everything else goes wrong. Modern garage doors can be extremely difficult to lift manually; having a backup battery will insure your car does not get trapped in the garage when you need to be on the move. Overhead Door's Battery Back-up, powered by Interstate Batteries®, will run up to 50 cycles in a 24-hour period after initial power outage.
From added convenience to home security, these useful garage door opener accessories are ideal for the homeowner who likes to be both prepared and on top of home technology trends. Contact Overhead Door of Garden City today with any questions and to discuss the installation of your ideal garage door opener accessory.
Call today
620-275-4602
http://overheaddoorgardencity.com/wp-content/uploads/2017/07/070317-OHDGC-garage-door-accessories.jpeg
4100
2733
ohd_edzk65z5
http://overheaddoorgardencity.com/wp-content/uploads/2018/01/ohd_garden_city_wc_logo_tm.png
ohd_edzk65z5
2017-07-06 01:20:21
2017-07-06 01:21:58
Most Useful Accessories for Garage Door Openers