Garage door safety month is still upon us — keeping the largest operating part of your home in great working condition is very important! Whether it's maintenance or upkeep, Overhead Door Company of Garden City has all the information and services you might need.
The rollers in your garage door play a key part and need to be changed every once in a while — luckily, they're very easy to replace. If you're thinking about replacing them, here is a helpful guide to get it done quickly!
What you'll need:
New garage door rollers

Clamps

Pliers

Large flat head screwdriver

Pry bar

A block of wood or a someone to help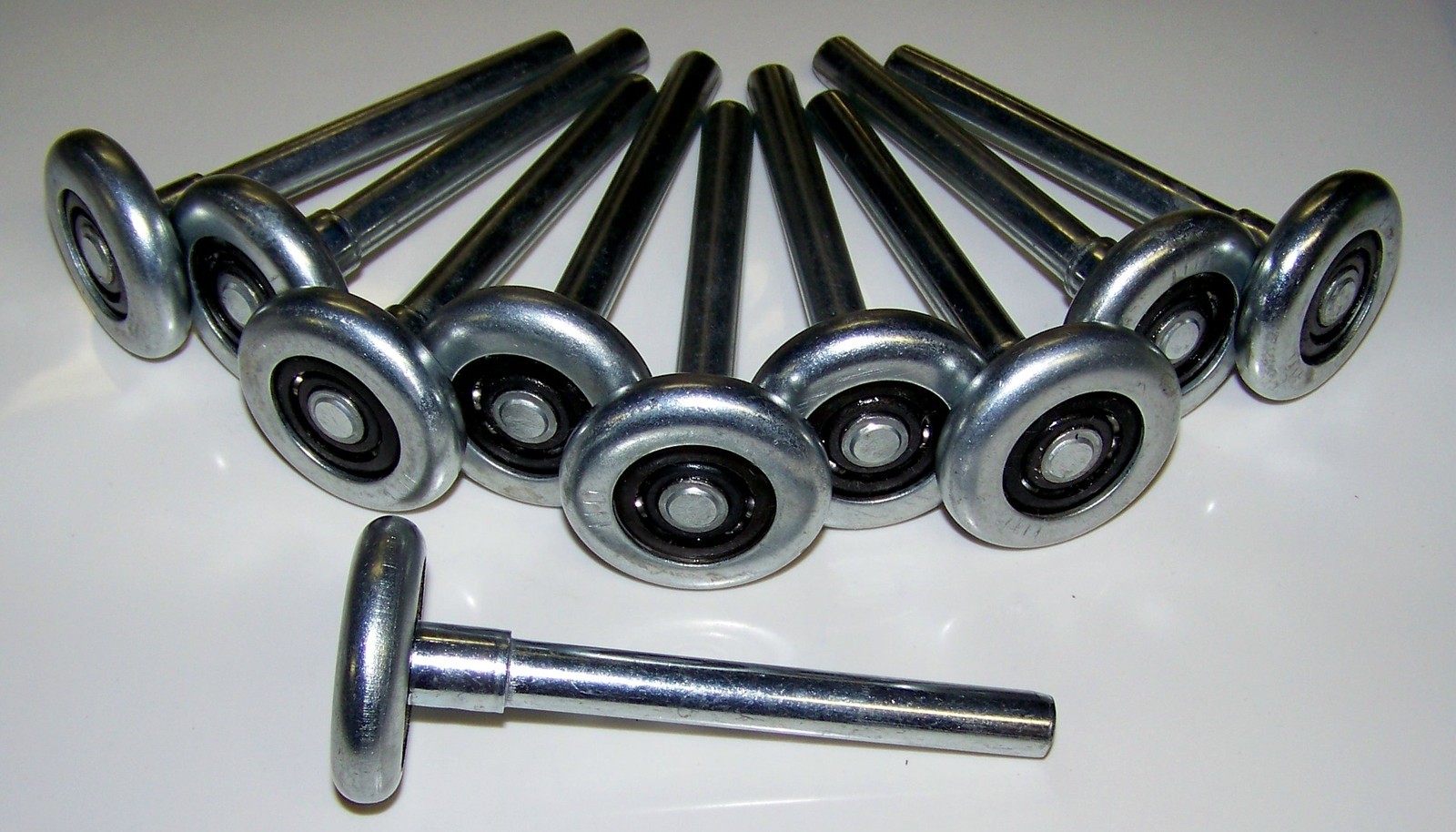 A few helpful hints before starting out:
If you're replacing the rollers, check on hinges and see if they need replacement, too. Rollers typically wear out faster than hinges, but you may as well knock it all out at once if needed.

If you have an extra roller, bring it to the store with you so you're sure you're getting the right part.
Instructions:
Bottom Rollers
Start by opening your garage door completely.

Put clamps on both sides of the track, about 2/3 of the way up the opening.

Release garage door from power opener by pulling attached release.

For extra safety measure, unplug opener.

Near top of the track, about where it starts curving towards the ceiling, use pliers to bend track slightly open

Line up first roller with the opening. Using a flathead screwdriver, wedge it between the roller and the track, and pry the roller out of the track.

Replace old roller and insert the bracket back into the track.

Roll door down to the next roller, move clamps, and repeat same process for removing and replacing the rollers.

Once all the rollers that can reach this opening have been changed, use the pliers to bend track back into alignment.

Remove clamp from track.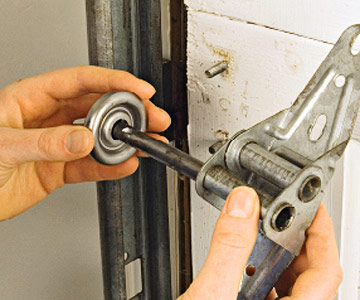 Top Rollers
Top rollers can be done one of two ways: bend track open or unscrew bolts on the brackets.
Open door all the way. Prop the door up with a 2×4, clamp a block of wood to the track, or have someone hold the door up so it doesn't fall on you.

Bend open part of the track in the middle of the overhead section.

Pry the bracket out and replace the roller.

Use pliers to bend track back into shape when finished.

Open door all the way. Prop the door up with a 2×4, clamp a block of wood to the track, or have someone hold the door up so it doesn't fall on you.
A few helpful hints:

Label the holes your rollers are currently in with "R" underneath – this ensures you put the rollers back in the right hole.

Trace around edge of bracket into the door so you know which direction and where it should be located.
Unscrew bolts holding bracket onto door.

Lift bracket out of track, angling if needed.

Replace rollers, make sure they're in the right slot.

Put bracket back into track – angle it so it goes in easily.

Line up bracket with outline and reconnect the bracket.

Thread bolts back into door and tighten.
Finally, remove clamps from tracks, plug-in the garage opener, reattach door to opener — sometimes just pushing — usually does it automatically. Close door and watch for any misalignments of the track.
Replacing the rollers on your garage door is a great way to safety-proof your home. It's a simple task that goes a long way for your garage door performance. If you would like to replace your rollers and would prefer a professional do it, Overhead Door Company of Garden City is more than happy to help! Call 620-275-4602 or contact us for a service appointment!
http://overheaddoorgardencity.com/wp-content/uploads/2016/06/replace-roller.jpg
300
360
ohd_edzk65z5
http://overheaddoorgardencity.com/wp-content/uploads/2018/01/ohd_garden_city_wc_logo_tm.png
ohd_edzk65z5
2016-06-20 22:29:57
2016-06-27 15:47:56
How to Replace a Garage Door Roller