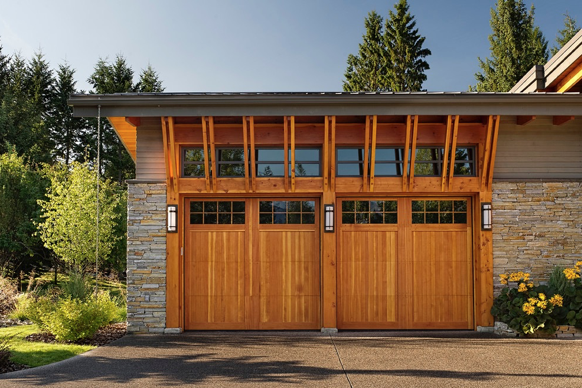 Household painting projects do not need to be difficult. You may be a seasoned painter indoors, but there are additional factors to consider when painting outdoors. Keep these tips for testing colors for paint projects in mind when painting your garage door.
Lighting
Several factors are going to impact the tone of your color on your door, including the lighting, texture, and finish. If your door is in a well-lit area the color you choose may appear brighter and more vibrant. In a lowly-lit area the color will be toned down. Also, if your door is faces direct sunlight, sun exposure will fade the paint over time. The texture and finish will affect the appearance of your door, but you can use glossier finishes and lighter tones to brighten up a dark space. The finish you use on your door can counteract these affects. High-gloss finishes make colors brighter and matte finishes make colors subtler.
Material
Painting the walls inside your home usually involves priming and painting drywall. Your garage door is made of materials like wood, steel, or laminate. Because of this you need to be sure that when you prime your door it is completely coated before you begin painting. If your door needs a second coat of primer but you only prime it once, the color you paint on your garage door will not look the same.
Testing
You can estimate how your color will appear, but it's best to take the time to test your color. When choosing a color, test it on both your door and a separate (but similar) material. By testing a portion of your door with you chosen color, you will be able to tell if you love the color. Painting over a separate material will also allow you to take that color to stores to compare it to other colors and accessories.
Damage
Your garage houses your cars as well as tools, sports equipment, and lawn care equipment. All of these items that may bump or scratch your door. Buy extra paint so that if your door gets scratched you will be able to touch up any blemishes- estimate about a gallon of paint to cover a white or primed two-car garage.
Weather
You cannot paint your door in the rain, but the heat will affect your paint job as well. Check your area's weather forecast before setting aside time to paint- ideal painting conditions are between 50 and 70 degrees Fahrenheit.
From color and design, to accessories and functionality, Overhead Door of Garden City is here to help with your garage door needs.
620-275-4602
http://overheaddoorgardencity.com/wp-content/uploads/2017/07/072417-OHDGC-tips-for-your-painting-project.png
388
582
ohd_edzk65z5
http://overheaddoorgardencity.com/wp-content/uploads/2018/01/ohd_garden_city_wc_logo_tm.png
ohd_edzk65z5
2017-07-22 19:18:51
2017-07-24 16:17:03
Tips for Testing Colors for Painting Projects