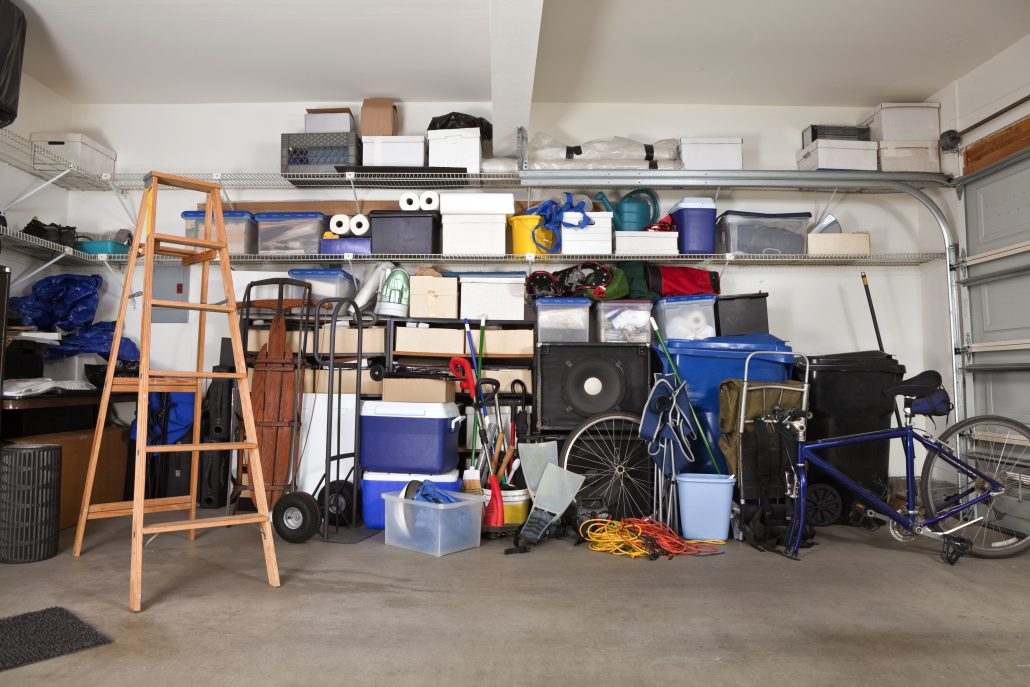 It's that time of year again. You have a project to do, but you can't figure out what happened to all of your garage space. This may happen more than once a year. If you're like the rest of us, you try to tidy up. Yet, the only thing that happens is your stuff (the mess) has shifted from one place to another. Are you in need of some tried and true space saving tips for your garage?

You can always start by seeing if there is anything to remove. We know… you don't throw it out because one day you will need it. Luckily, it is possible to keep all that stuff. We can be smart and sleek with our storage with these space saving tips?
For a real clean look with ample storage space, look for some tall shelves with sliding doors. You can keep all sorts of totes full of all your treasures, tools, sports equipment, camping and fishing essentials, or craft supplies. Clear totes make it easy to see what's inside, but don't forget to label them whichever color you choose.
Maybe you're on board with the totes, but not so much on giving up the floor space. You had bigger plans in mind for all that garage floor square footage. So, utilizing the ceiling space is the solution for you. Look for shelves you can hang from the ceiling rafters or take a few boards to set as tracks. These tracks allow you to slide your totes into organization. You'll be amazed how much space is actually up there. This can be the perfect spot for things you only take down a few times a year, too.
Finally, your summer toys have been out and about for months, but where to put them? Have you thought about maximizing that wall space? It can be a piece of wall art and storage at the same time. Great bicycle mounts exist for the wall, or they can be raised up with a hoist to the ceiling. The same goes for your kayaks and jeep tops. If you have more tools than toys, they can become artwork too. Not to mention they are readily accessible. Try out some magnetic strips or a pegboard.
Wait a second… doesn't anyone keep cars in their garage anymore? While maximizing wall space and the ceiling, you'll find that you do actually have room for your vehicle. Do you have a collector car, too? It might be time to invest in a car lift. Yes, they make ones for residential use. Turn one parking space into two.
The possibilities are endless when it comes to space saving tips for your garage. Give us a call at Overhead Door of Garden City if you still aren't sure where to begin. We're happy to help.
620-275-4602
http://overheaddoorgardencity.com/wp-content/uploads/2017/09/OHDGC_090517_Space-Saving-Tips-1.jpeg
3744
5616
ohd_edzk65z5
http://overheaddoorgardencity.com/wp-content/uploads/2018/01/ohd_garden_city_wc_logo_tm.png
ohd_edzk65z5
2017-09-06 18:25:18
2017-09-18 14:34:24
Garage Space Saving Tips