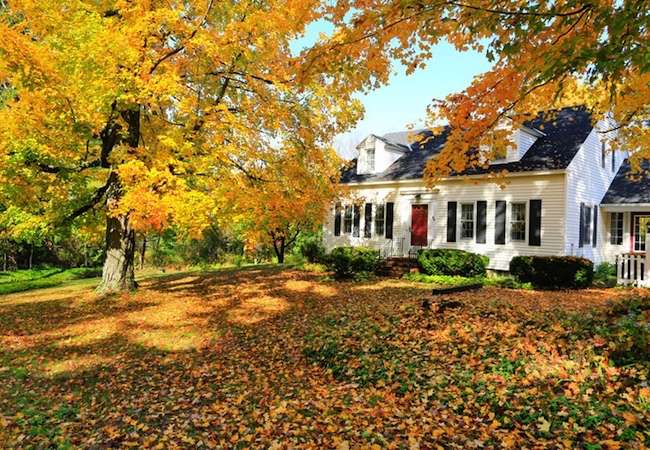 As fall arrives, winter is just around the corner. There are many household jobs you will want to avoid once the temperature drops. The last thing you want to have is cold finger tips as you move all your summer goods indoors. At the Overhead Door Company of Garden City, we want you to avoid that cold, and be prepared for fall and winter, with our Fall Garage Prep.
The lubrication and alignment of your door can change as the weather changes
A garage door that works swimmingly in the summer may not work as smoothly in the winter. To test the alignment of your door, close your door and inspect its edges. Your door should be level with the ground and have no gaps between the door and its frame. Seal any gaps with additional weather stripping. If a new layer of this does not seal the door, contact a professional from the Overhead Door Company. For lubrication, use a low temp grease on the opener's chain or screw, and a spray lubricant to coat the overhead springs, hinges, rollers, and tracks.
Your summer goods need a new home
As the days get shorter, it is time to move your summer equipment inside for storage. By putting away your patio furniture, inflatable pools, and umbrellas, you ensure that they will last as long as possible. Summer lawn care equipment will also need to be stored away from the elements, such as your lawnmower, garden hoses, and sprinklers. The standard place to store all of these items is in the garage. Avoid cluttering your garage by upgrading your storage; wall-mounted and elevated storage options are inexpensive and efficient.
Protect your garage floor from the cold
Before winter hits, you will want to seal any cracks and holes in your garage floor. Freezing temperatures will cause that water to freeze and expand causing further damage to your floor. These cracks are easy and inexpensive to fill in with polyurethane resins. You can even apply a coat of floor paint to add extra protection and style. If you are in search of a more durable upgrade, tile flooring is tough and wicks away moisture.
Save money and add additional living space
The amount of heat that is lost through your garage is directly related to the cost of heating your home. Insulating your garage will pay for itself over time, and provide you with extra space during the winter. If you use your garage as a workspace, insulation is crucial for your garage. It is also not uncommon for your heating system to be housed in your garage. If your garage is insulated the indirect heat produced by your furnace will be conserved in your garage.
At the Overhead Door Company of Garden City, we want you to be prepared for winter. If you have any questions about Fall Garage Prep, call the Overhead Door Company of Garden City today.
(620) 275-4602
http://overheaddoorgardencity.com/wp-content/uploads/2017/09/091817-OHDGC-fall-garage-prep.jpg
450
650
ohd_edzk65z5
http://overheaddoorgardencity.com/wp-content/uploads/2018/01/ohd_garden_city_wc_logo_tm.png
ohd_edzk65z5
2017-09-18 14:44:37
2017-09-18 14:44:37
Fall Garage Prep